---
Privacy
Webcast: Accelerate your CPRA Compliance Program
DATE & TIME
1:00 p.m. - 2:00 p.m. ET
Legal Operations
Webcast: Increasing Legal Ops Efficiency by Mastering Costs
DATE & TIME
1:00 p.m. - 2;00 p.m. ET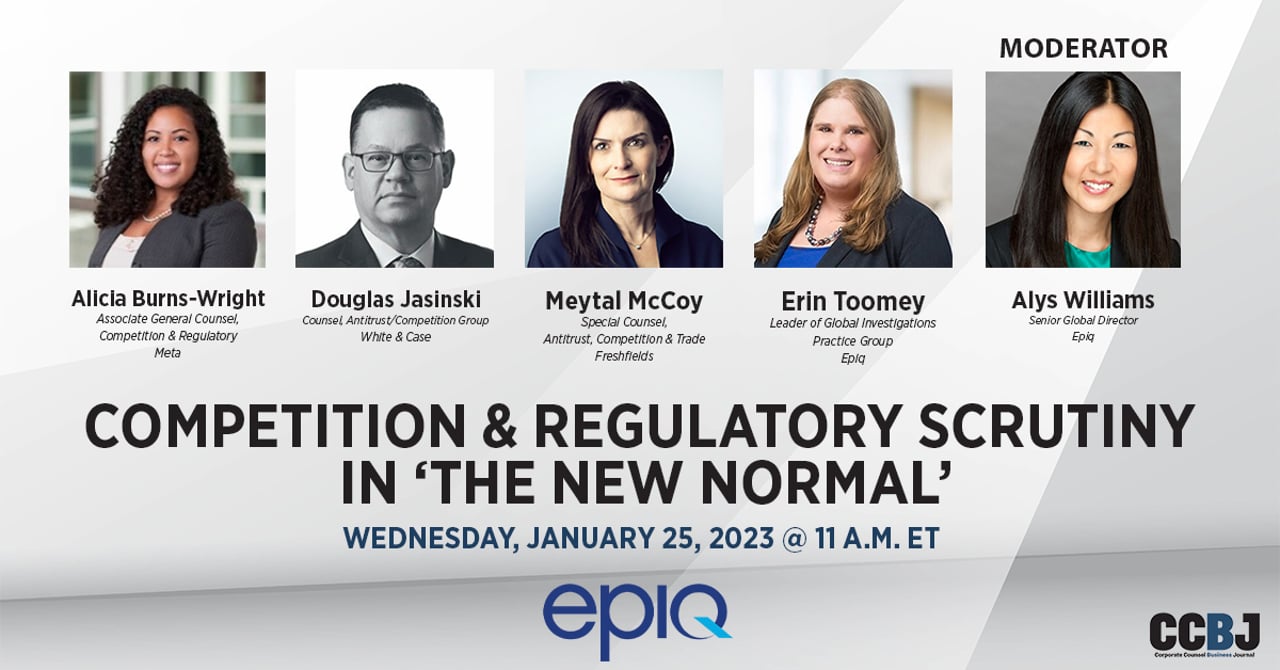 Competition & Regulatory Scrutiny in 'The New Normal'
As the COVID-19 pandemic subsides, and the world adjusts to the "new normal," there is mounting evidence of a shift in approach by regulatory enforcement agencies around the world. Industries that have historically been at lower risk of investigation are coming under increasing scrutiny – and the tactics used by regulators are changing. In this webinar, a panel of experts will facilitate a discussion – and answer questions – about the evolving landscape of regulatory scrutiny in 2023 and beyond.
---
GET UPDATES!
Get the best of CCBJ delivered to your inbox daily.
---
CONNECT WITH US
---
Become a Contributor.
CCBJ offers the world's leading corporate law departments insights on risk management, innovation and leadership. Join outside counsel from elite law firms and other influential organizations by becoming a contributor today.
Interested in becoming a Contributor?
Become a Contributor Today
---
Suggested Articles
Technology
What's Up with WhatsApp? Out of Control Business Communications
Sending and receiving messages over a secured communication network manifests in various forms of electronic platforms – E-messages, e mail, instant messaging, live chat, text messaging, etc. They have become the primary form of communications between employees.
Read More
---
Contracts
An Independence Day Celebration of Contract Lifecycle Management
Had contract lifecycle management software (CLM) existed in 1776, could it have helped the Founding Fathers draft, negotiate and sign the Declaration of Independence faster? Would we be celebrating Independence Day in June? Let's walk through stages of the contract lifecycle and see...
Read More
---
Career Development
Clear Principles Give the Legal Team Freedom to Roam
Conrad Brooks, general counsel with AXIS Capital, talks about his unconventional career path, his personal leadership style, and what he looks for in new hires.
Read More
---
Browse Articles By Category
---