Investigations
Bring Budget Predictability to Litigation and Investigation with Legal Intelligence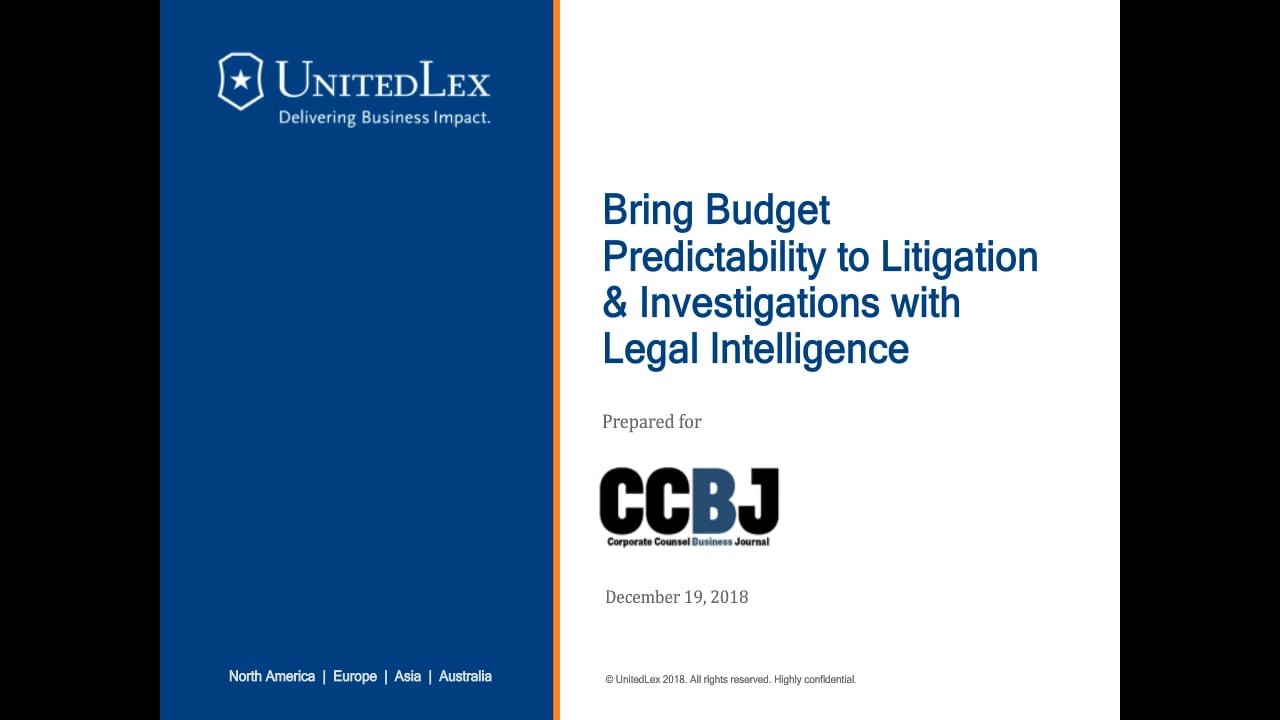 Watch the video
By agreeing to watch the video you are opting into emails from CCBJournal.com.
While technologies and processes continue to evolve, the economics of litigation and investigations remain largely unchanged with costs spiraling upwards. Legal service providers are not incentivized to tackle the main driver of cost: the exponential growth of data. Savvy businesses have successfully moved law firms away from the billable hour. This should be the case for other litigation service providers as well. Instead, many law departments still struggle to gain visibility and control over their litigation and investigations budgets.
During this webinar, UnitedLex will discuss a structured methodology to:
Define quantitative metrics that will hold law firms and third-party providers to new performance standards
Create alternative fee arrangements to drive substantial cost savings and predictability
Understand the true costs of litigation and investigations
Develop better legal intelligence earlier in the litigation lifecycle
Share best practices for managing the efficiency of the litigation and investigations process
Speakers
Geoff Wilcox
Managing Director, UnitedLex
Geoff has more than fourteen years of legal process optimization and litigation discovery leadership experience, helping clients design defensible and cost-effective solutions to accelerate speed to legal intelligence and achieve better legal outcomes. Passionate about driving value for clients and opening new career pathways for lawyers and other legal professionals, Geoff has focused throughout his career on bridging gaps and building synergy among lawyers, technologists & business leaders. Geoff earned his law degree from Harvard Law School.
Jeff Ikejiri
VP, Legal & Business Services, UnitedLex
Jeff Ikejiri is Vice President, Legal and Business Services at UnitedLex. He works closely with clients across multiple industries on law department transformation initiatives. Prior to UnitedLex, Jeff was Senior Practice Director at RGP in Los Angeles and New York City. Jeff was formerly an Associate at Davis Wright Tremaine LLP and Sedgwick LLP, where he managed state and federal lawsuits for Fortune 100 companies in commercial and labor and employment disputes. Jeff received his BBA from The College of William and Mary, and his JD from Southwestern Law School.
Jeff is a mentor for the Tiger Woods Foundation and Officer in the Asian American Bar Association of New York.