Technology
Blockchain: Emerging Disruptive Paradigm or a Solution in Search of a Problem?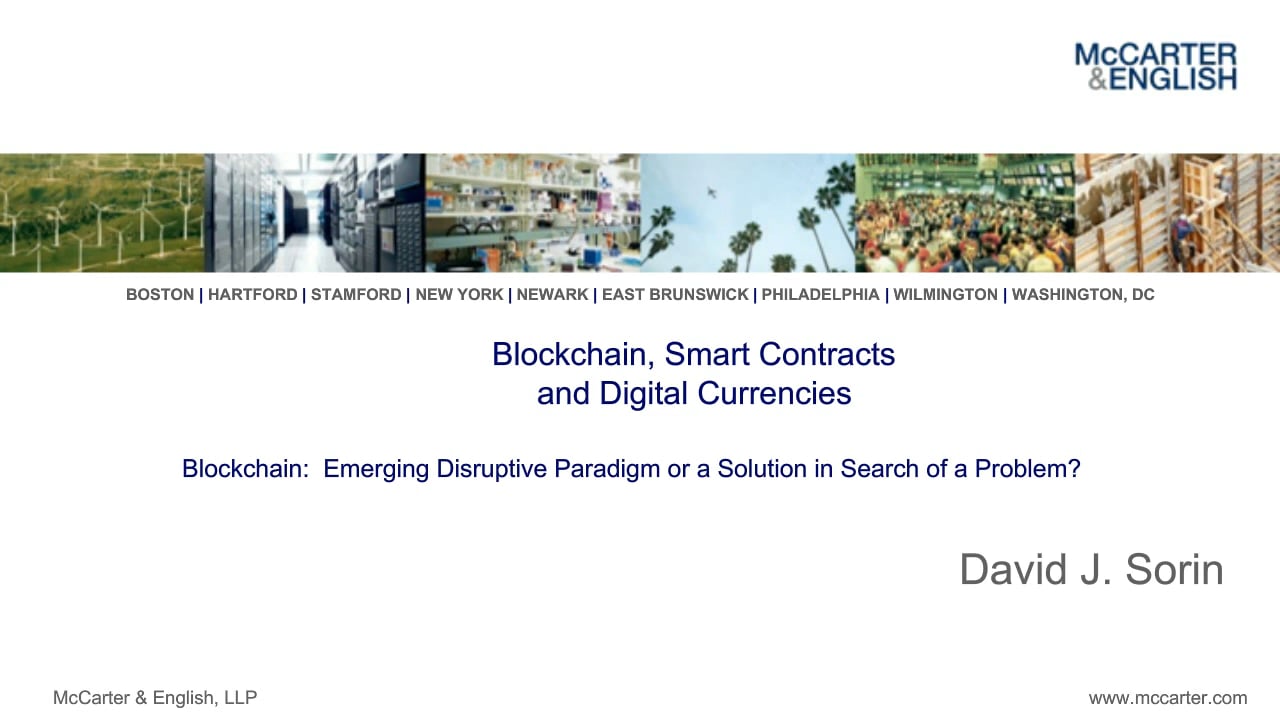 Watch the video
By agreeing to watch the video you are opting into emails from CCBJournal.com.
This webinar discusses blockchain technology, its anticipated widespread applications and implications, and the development in its progeny, smart contracts, cryptocurrencies and digital securities. We begin with a layman's explanation of blockchain and present use cases and impediments to adoption. We then explore some of the legal and related business issues presented by blockchain, smart contracts and cryptocurrencies, including the possible impact on capital raising.
Speaker:
David J. Sorin
Partner, McCarter & English

Dave Sorin is an office managing partner of McCarter & English and Co-Chair of the Venture Capital & Emerging Growth Companies practice. His national practice focuses primarily on privately- and publicly-owned startup, early stage, emerging growth, and middle market technology, tech-enabled and life science enterprises, as well as the investors, executives, and boards of directors who support and lead them. Dave has a long track record of successful representation of growth companies, having been repeatedly recognized by well-known periodicals for a unique combination of legal acumen and sound business judgment. He also brings to bear his broad range of knowledge and experience in counseling enterprises and investors in diverse emerging growth markets, technology industries (including software, artificial and augmented intelligence, VR/AR, information technology, ecommerce, cybersecurity and communications), and life sciences. Dave is a thought leader in the emerging areas of blockchain, smart contracts and digital currencies—not only talking the talk by participating in speaking engagements and authoring articles, but walking the walk by representing venture capital investors and companies employing such technologies, and working on matters in connection with utility and security tokens, SAFTs, and ICOs (including under Regulations D and A).